Contact Information
Postal Address
Research Lab 1, Eolas Building,
Computer Science Department,
Maynooth University
Maynooth,
Co. Kildare,
Ireland.
Phone:
+353 1 7087551
Research & Teaching Profile
Dept. Computer Science –  ICT Ethics & Futurology
Dr. Dainow's research focus is Integrated Domain Theory, which provides a framework for the application of General Systems Theory to socio-technical systems of the smart city.  He has published a number of papers during this research.
He also teaches ICT ethics in various Computer Science courses.
Dept. Philosophy – Philosophies of the Digital Age
Dr. Dainow teaches the underlying philosophies of the Digital Age, such as transhumanism.
Academic Writing – Centre for Teaching and Learning
Brandt tutors on academic writing for the Writing Centre.  He lectures around the university on subject-specific writing skills.  He is the author of the Centre's Handbook on Academic Writing.
TECHNICAL INTERESTS
Brandt is an active WordPress administrator.  He hosts and manages a number of sites for non-profit and research organisations, such as the Irish Reflexologist's Institute and WeRelate.
BACKGROUND
Brandt attended the National University of Ireland as a mature student, achieving a BA (Hons) Classics & Philosophy.  He then obtained a BPhil from the Pontifical University for a 14,000 word dissertation on Aquinas's Philosophy of Law.  He won a Hume Scholarship to undertake a PhD at Maynooth University.
Brandt started life as a journalist and then moved into sales. He moved into computers in his late 20's as a programmer, and then as Senior Technical Spokesperson for Microsoft Australia. Eventually he became a strategic consultant in The City of London, helping banks adopt new IT solutions.
Brandt first saw the web in 1992 and the experience was electric. He guided many corporations in their first steps into the web, including British Telecom, the London Science Museum, Renault UK and Safeway Supermarkets.  In the late 1990's he assisted a number of organisations in USA and EU with the adoption of first-generation XML technology, including the International Atomic Energy Commission, Ford, Microsoft and Unisys.
From 2001 to 2014 he wrote a monthly column for iMedia Connection, a US digital marketing magazine.
Brandt is one of the founders of the Irish chapter of the Internet Society and current Acting Chair.
Contact Information
Postal Address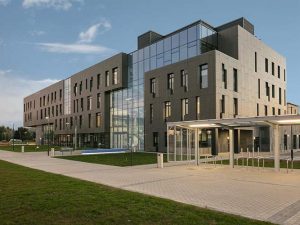 Research Lab 1, Eolas Building,
Computer Science Department,
Maynooth University
Maynooth,
Co. Kildare,
Ireland.
Phone:
+353 1 7087551